We are St Raphael Wellness Centre (SRWC) a non-profit, charitable organisation based in Winnipeg serving the needs of individuals and families affected by addiction.
Our Story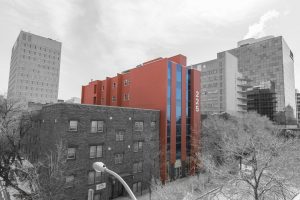 From our beginnings in the early 1970s as a small church-based addictions support service, we grew into a helping agency that, in the early 1990s sought to introduce European-influenced housing and addiction treatment to Winnipeg. Since then we have re-focused on meeting the needs of those in pre- and post-treatment.
While our history has informed our holistic approach to addictions recovery—we believe that personal spirituality is one of many areas that are included in well-balanced living—our programs are not faith-based and we welcome Participants from all cultural and religious backgrounds.
Governance
SRWC is governed by a Board of Directors that sets the strategic direction of the organisation in line with its mission and values.
Our Mission
To provide a welcoming environment for healing where individuals, family and friends affected by addictions are accompanied in their journey towards recovery in body, mind and spirit.
Our Values
Staff
Our STAFF commits to uphold the following values as we pursue our mission and vision:
TRUST – We are reliable, dependable and accountable for our actions.
RESPECT – We demonstrate fairness, consistency and compassion in our interactions with others.
UNDERSTANDING – We are non-judgmental, supportive and empathetic.
INTEGRITY – We conduct ourselves at all times in a professional and ethical manner.  Honesty, openness and transparency are the hallmarks of the way we service our participants.
TEAMWORK – We work in collaboration with every member of our staff, participants, their families, and other partner organizations to facilitate and sustain recovery.
Participants
Our PARTICIPANTS are challenged to uphold the following values as they pursue recovery from addictions and seek optimal physical, mental, social, emotional and spiritual health.
HONESTY – I will participate in an open, honest and responsible manner that will foster a healing attitude.
PERSISTANCE – I will commit to the completion of the program with discipline, optimism and a desire to learn.
COURAGE – I recognize that the journey may present challenges that I must strive to overcome with the support of the program and others.
RESPECT – I respect the fact that the Staff has my best interests in mind and I will participate with other Participants in a respectful manner.
How We Provide Our Services
Generous contributions from individual grants as well as funding from Province of Manitoba Healthy Living, mean we are able to provide services to our Participants while only charging a sliding-scale administrative fee. If you'd like to support our work, visit our Support Us page.
Our supportive and comprehensive intake process ensures the women and men who need our support in pre- and post-treatment are matched with the program that best meets their needs. Find out more about our range of programs.
You can also download our brochures here: