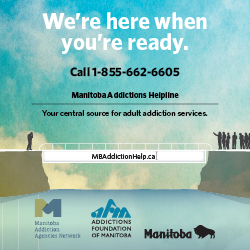 SRWC offers services to individuals and families affected by substance addiction recovery. For other services, including crisis help, detox and mental health concerns, you can learn more about these organisations by clicking on the links below.
If you are in crisis please call the Crisis Line at 204-786-8686/Toll free 1-888-322-3019
Provincial Resources
Provincial Adult Addictions Information 1-855-662-6605
Youth Addictions Centralized Intake 1-877-710-3999
24-Hour Problem Gambling Helpline 1-800-463-1554
Crisis Counselling
Klinic Crisis Line 204-786-8686
WRHA Mobile Crisis Service 204-940-1781
Detox services
Residential Treatment
Addictions Foundation of Manitoba (AFM)
Anchorage
Behavioural Health Foundation
Tamarack Recovery Centre
Union Gospel Mission
Mental Health Resources
Anxiety Disorders of Manitoba (ADAM)
Behavioural Health Foundation
Canadian Mental Health Association
Winnipeg Mental Health Resource Guide
DISCLAIMER: This website provides general information only and is not intended as a substitute for professional advice. Every effort is made to ensure that the information is accurate at the time of posting. SRWC is not responsible for and may not be in agreement with information provided by other websites that are linked to this site.