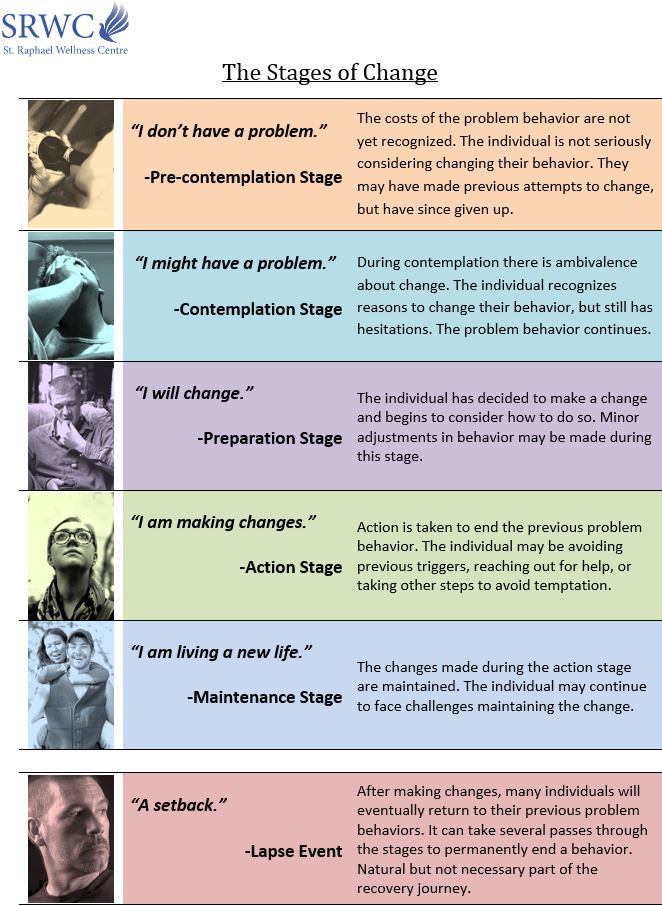 Stage #1: Pre-Contemplation
Unaware of problems associated with behavior. Certain that the positives of the behavior out- weigh the negative. Not interested in change. Unwilling to change. No intention to change.
Others around the individual may be concerned or urge them to change, but that individual does not see a need for change. Some individuals are in the precontemplation stage because they believe they cannot change, they may have tried previously but couldn't sustain the change, and have given up on the idea of change and, therefore, have resigned themselves to not even thinking about it.
 An example of a precontemplation statement is:
"I don't see any reason to stop drinking. I'm sure I don't drink any more than all my friends. I feel good so I don't know why my doctor is giving me a hard time about it."
When there is sufficient awareness that the alcohol or other drug use might be an actual concern, and therefore the individual is beginning to think about change, the individual is moving into the contemplation stage.
Stage#2: Contemplation
Becomes aware of problems associated with behavior. Ambivalent regarding positives and negatives. Explores the potential to change. Desires to change behavior but lacks confidence and commitment.
They are weighing the pros and cons of change, and they are struggling with, and perhaps confused about, whether to make any effort to change or not. They may consider the benefits of changing but are also well aware of the problems or major challenges that making the change requires.
An example of contemplation statement is:
"I'm sure that I don't have any serious drinking problem; however, I know I've done some things that concern me when I drink."
When an individual makes some commitment to try and change, when they make the decision to change, they are moving into the preparation stage.
Stage #3: Preparation
Accepts responsibility to change behavior. Evaluates and selects techniques for behavior. Develops a plan. Builds confidence and commitment. Intends to change within very near future.
The preparation stage does not mean that the person is actually making meaningful action to initiate or modify behavior, but only is beginning to plan how to change or to consider steps to effectively change.
An example of a preparation statement is:
"I will start attending an AA meeting. I will avoid hanging out at the bar."
When an individual begins to take steps to change in an active way, they are moving into the action stage.
Stage #4: Action
Engages in self-directed behavior change effort. Gains new insights and develops new skills. Consciously chooses new behavior. Learns to overcome the tendencies for unwanted behavior.
Action requires commitment and energy. The individual may make others aware of his or her efforts and seek support for new behaviors.
An action statement should be in the present tense. It could sound like:
"I'm attending three AA meetings a week. On Friday nights instead of going to the bar, I'll go to the movies with the family."
When an individual sustains involvement in the action stage for some period of time (as a very loose guideline, say six months), they enter into the maintenance stage.
Stage #5: Maintenance
Masters the ability to sustain new behavior with minimum effort. Establishes desired new behavior patterns and self-control. Remains alert to high- risks situations. Focus is on lapse prevention. Has changed behavior for six months.
Perseverence
Consolidation
Individuals in recovery will learn strategies to manage stress or resist peer pressure and manage cravings. An individual may lapse or have a short return to previous unhealthy behaviors but become quickly aware of them and return to the new behaviors that they are trying to sustain.
An example of a maintenance statement is:
"I've been doing well in my recovery for the last three months, but the holidays are coming up, and that's when I have the toughest time. I think I could use some help in finding ways to say 'no' and mean it."
*EVENT: LAPSE OR RELAPSE
This is an event, not a stage. May occur at any time. A"natural but not necessary" part of the change/recovery process.
SLIP: Reuse, but immidiate correction and continue on recovery.
LAPSE: Temporary setback in abstinence. Not using recovery tools, more serious amount of using or drinking, with ability to return to abstinence.
RELAPSE: Full return to use/drinking patterns and accompanying life choices. May or may not return to abstiencene.
Slipping is not encouraged, but it does happen to most individuals in recovery.  When it does, one can "slip well" by learning from the experience to help prevent further recurrences.
You have options.
Learn more about how SRWC's programs are designed to meet every individual where they are at–no matter what stage you are in.