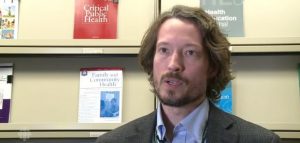 According to CBC London, offering free naloxone is 'turning the medical model on its head'. This is according to Dr. Chris Mackie, the medical officer of health for the Middlesex London Ontario Health Unit.
Dr. Mackie describes the Medical Model as "…you come to the doctor, you're forced to come into a clinic, diagnosis and treatment happens and you'll take the medication as prescribed."
On the other hand, the idea of providing naloxone to individuals to use themselves is "putting the power of medical decision-making in life or death situations into the hands of everyday people, including drug users themselves."
---
Participants, not Patients
Every day our recovery community empowers individuals who use substances to get and stay sober.
We differ from what Dr. Mackie describes as the Medical Model, because they are not "addicts", but individuals living with Substance Use Disorder (SUD). And this substance use is not a moral failing, but a complex and multi-dimensional health issue.  Our program members are not patients, but participants in their own life changes. They have shown they are willing and able to take responsibility for the things they are responsible for.
This is why SRWC does not have "addictions counsellors", but Recovery Counsellors (and Recovery Coaches) who specialize in walking alongside adults living with SUD and other out-of-control behaviours.
On It's Head
Where Dr. Mackie is correct, and institutions are holding onto the long-standing judgmental and stigmatizing views of individuals who use substances, we hope that view will be "turned on it's head" to a more informed, compassionate, and empathetic perspective.
Read more: CBC: Why free naloxone is 'turning the medical model on its head'
More about the Canadian Centre for Substance Use and Addiction's Ethics Statement